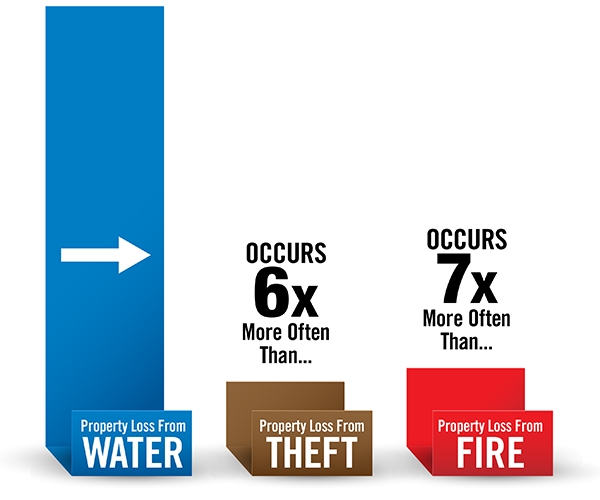 Excelsior P & H, Inc. is a Leak Defense Installer on the East End of Long Island
When frozen or worn out pipes cause water leaks in basements, behind walls, or in ceilings, the Leak Defense System is the perfect choice to detect these damaging plumbing leaks and automatically shut off the water supply to prevent serious water damage to your home and valuables. This detection system installs directly into your existing plumbing setup supporting pipe sizes from 3/4 of an inch to 3 inches. The device is easily programmed to suit the water usage needs for any home, and since it uses a wireless control panel it can be managed from anywhere on site or through the internet using the tablet or smartphone mobil app.
The Leak Defense System control valve is installed on the structure's incoming waterline. Once installed, the Leak Defense System begins monitoring water flow, detecting even small leaks. Simply install the FREE LDS mobil app on your smartphone or tablet and the easy to use wireless control panel lets you set your Leak Defense System to fit the water usage of your family. Set it up to allow various appliance cycles like dishwashers, washing machines, etc. and change it anytime to refine it perfectly to your home. The Leak Defense System can even be connected to a 3rd party monitoring company's security system for maximun protection. If you have multiple Leak Defense Systems you can control each system individually through the mobil app. This feature is especially valuable for persons who own and manage multiple properties. Excelsior P&H, Inc. can install your Leak Defense System to help protect your home and reduce water consumption for added savings.
Monitor and Control Water Flow from Anywhere Using the Free Mobil App
24 HOUR / 7 DAY EMERGENCY SERVICE | CALL 631-288-8383 for a FREE ESTIMATE